March 25, 1961:
In november of 1960 the Colonel, Tom Parker, had read an article in the Los Angeles Examiner about plans to erase a Memorial for the 1,102 officers killed on the USS Arizona during the Japanese attack on Pearl Harbor in 1941. The colonel offered to stage an Elvis concert to benefit the memorial fund. Elvis enthusiastically agreed.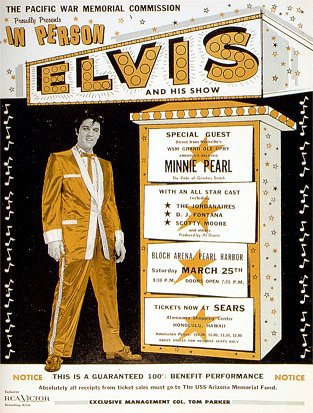 Click above for full size ad.
Elvis flies with a Pan American Airlines flight from Los Angeles to Honolulu arriving at 12.15 PM together with country comedian Minnie Pearl who would also perform on the benefit concert.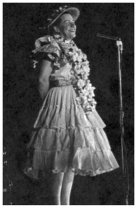 To read an interview with Minnie Pearl about this concert click here
Minnie Pearl (left)
At the Honolulu International Airport Elvis is greeted by an estimated 3,000 fans. Soon Elvis is covered with leis, gifts from his enthusiastic Hawaiian fans. (see photos below)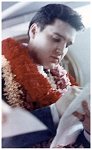 Rare color photo from Elvis at the airport
Source: Bob Klein Photo Archives