Around 3.30 P.M. that afternoon there is a press conference in the Carousel Room at the Hawaiian Village Hotel where Elvis is staying.
Not only the usual newsmen and photographers are invited for this press conference but also a hand-picked group of 27 high school and middle school reporters were invited.
The Sunday Adviser reported the following about the press conference: "Elvis answered questions with a matter-of-fact mumble" and "The Colonel, Tom Parker, supplied the punch lines that brought laughter and applause from the student reporters."
Elvis is presented a few awards for his benefit performance that will take place this evening.
To listen to the award presentation click here to download the MP3-soundfile ( 550kb /1:20 playing time)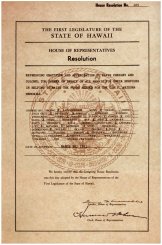 A few days later Elvis would receive a certificate of the resolution (#105) of the House of representatives of the Hawaiian Legislature expressing their gratitude to Elvis and The Colonel for their help in raising money for the USS Arizona Memorial.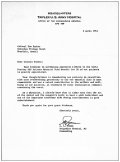 Elvis also received this letter of appreciation from the Tripler U.S.Army Hospital thanking him and The Colonel for handing out free tickets for the benefit concert to patients of the hospital.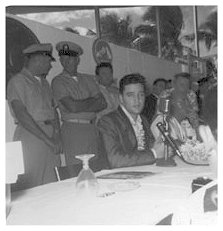 Photo(left) from the
Bob Klein Photo Archives