We have boys now, and men, in the business - in our business and in the rock and roll business and all the show business forms - young men who have this reaction on women. They (the women) scream. They yell. They do all sorts of wild things. But this (the time in Hawaii) was the first that I'd ever seen and I was just horrified. I thought they were going to kill him. They would have if they could have gotten loose, I'm afraid.

When we got to the hotel, there were 500 screaming women there. We stayed at the Hawaiian Village. The police were standing there trying to keep the crowd back. They didn't have the fence there like they did at the airport so it was very dangerous. The police had this cordon of arms together holding the crowd back, but the crowd burst through when Elvis stepped out of the limo. These women, screaming women - all ages, they burst through the police and started grabbing at Elvis. Of course, that scared Colonel Tom Parker to death. They weren't after me. They didn't care anything about me, but they were after him. We finally escaped them and got inside.

We started up in the elevator and I said to Elvis, 'How do you stand that?' He had it everywhere he went. I knew that.
'I just got used to it,' he said. I said, 'You know those women could kill you.' 'They're not gonna hurt me,' he said.
WeIl, what he didn't know was they probably would have hurt him if they had been able to get him. They called in more policemen of course.

He stayed in his room the whole time. We did the show that night. I never will forget that night. It was so exciting. The Jordanaires opened the show and then I worked. When it got time for Elvis to come out everyone was so excited. All the men and women were screaming. I watched him from the wings. He was at his peak. He was handsome and alive and exciting and just great. I guess Elvis must have sung over an hour, maybe more. Then we all went back to the hotel.

The next morning Colonel Parker called and asked Henry and me to come up to Elvis' suite and have some breakfast. When we came up to his suite there were at least five policemen stationed up there. They even had them stationed at the elevator all up and down the hall. He was so busy talking on the telephone with different people. Oh, it was so exciting to me! I had never been around a star that big. I had been in the business for twenty-some-odd years, but I had never been around a star that big. He couldn't leave the hotel except under heavy guard. I remember they told us about one woman who got in and was going to grab him. It was . . . it was incredible how they went wild over him.

I think he would be alive today, probably, if he had been allowed to mix and mingle with his fans. I think it was a great cross for him to bear that he couldn't get out and be with his fans. I think he loved his fans. I think that 's why they loved him and still love him. I think fans are very conscious and sensitive to the tact that performers love them. I don't think that he was able, really, to perform a lot of times when he did. I worried about that - same way I did with Hank Williams, Sr. He (Williams) was one of my very best friends. I think there just comes a point where you are just too sick to perform and you should not be forced to do that. When people pay their money, they want to see you. That's the way it was with him. I like to remember him the way he was in Hawaii.

I can always remember that experience in Hawaii pleasantly on account of him (Elvis). I've been with certain stars; and I've been with the current stars. Some are caring and pay attention to their fans and to their fellow performers and some are too busy. Elvis never seemed too busy.' ,
* * * * * *

Editors note:
Sarah Ophelia Cannon (Minnie Pearl) born on October 25, 1912
died on March 4, 1996 at the age of 83.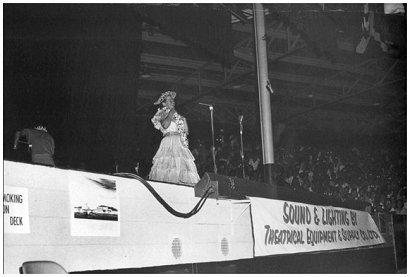 Minnie Pearl opens for Elvis at Bloch Arena, March 25, 1961