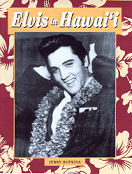 Click below to find out about the follow-up to Jerry Hopkins
"Elvis in Hawaii" book, titled:

Aloha Elvis:
Hawaii's great friend

Hello and welcome to this site!
Elvis loved Hawaii. From his first visit in the late 1950's till his final vacation in March of 1977 he would visits the Islands of Hawaii on many occassions. Not only did he make three movies in Hawaii (Blue Hawaii, Girls Girls Girls and Paradise, Hawaiian Style) he also came to Hawaii for live performances, the one most well known being the show on January 14, 1973 telecasted world-wide as "Elvis, Aloha from Hawaii".
Like many (first time) visitors Elvis fall in love with the beauty of the islands and the hospitality of the people of Hawaii. The Islands are a true paradise for people in search of sun, white sandy beaches, surfing and beautiful nature scenes.
Hawaii would become Elvis favorite vacation destination and he would enjoy many vacations there.
What can you find on this site? Well, there are lots of photos of the 3 movies Elvis made in Hawaii. Next to these photo collections you can find (background)information about these movies. Interesting, and probably less known, facts about the movies you find in the
"Movie Trivia" section.
Besides the movies you can find a photo collection and detailed information about the 1973
"Elvis, Aloha from Hawaii" TV-Special. The first world-wide telecasted live performance ever.
The newest addition to this site is of special interest to Elvis-fans planning a trip to Hawaii. Here you find all the information you need to find the movie-locations, the former Honolulu International Convention Center (site of the Aloha from Hawaii show) and many other Elvis-related spots on the islands of Oahu and Kauai. Even for those who are not so fortunate to visit the island there is a lot to enjoy in this section, for you can find many photos shot on location. So you be able to "visit" these locations without ever leaving your home, or for those browsing during working-hours; your office :-)
Elvis and Elvis Presley are registered trademarks of Elvis Presley Enterprises, U.S.A.
This site is published in the Netherlands, Webmaster: Martin Nolet