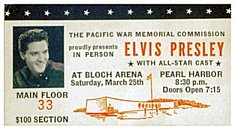 Original ticket for the benefit concert
Songs performed by Elvis during this concert:
1 - Heartbreak Hotel
2 - All Shook Up
3 - A Fool Such As I
4 - I Got A Woman
5 - Love Me
6 - Such A Night
7 - Reconsider Baby
8 - I Need Your Love Tonight
9 - That's Allright
10 - Don't Be Cruel
11 - One Night
12 - Are You Lonesome Tonight?
13 - It's Now Or Never
14 - Swing Low, Sweet Chariot
15 - Hound Dog
A tape recording of this show was released by RCA in 1980 on the box-set "Elvis Aron Presley"
In 1998 this box-set was released on a 4-cd box.
The LP box-set and 4-cd box are hard to find now-a-days.
The show was slated for Sunday, March 25 - 1961 at 8.30 P.M. at the Bloch Arena in Pearl Harbor. There were 4000 tickets sold in the price range from $ 3 - $ 10. An additional 100 tickets of $ 100 were reserved for a special ringside section in the bloch arena. 50 of these tickets were bought by Elvis and The Colonel for patients from Tripler Hospital (see "thank you letter" at press conference section on this site).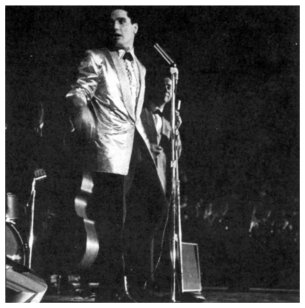 The show was opened by the Phil Ingall Orchestra, followed by an Hawaiian comedian; Sterling Mossman. Then there were performances of Boots Randolph (sax) , Floyd Cramer (piano) and The Jordanaires (vocal) before country comedian, Minnie Pearl hit the stage. Finally after the break, Rear admiral Robert L. Campbell introduced Elvis on stage.
Elvis wore his gold lame jacket and black dress pants. This would be the last time Elvis would ever wear the gold lame jacket. The concert itself would become the last performance on stage till Elvis return on stage, almost 8 years later in Las Vegas in 1969.
The show raised nearly $65,000 for the USS Arizona Memorial building fund. This show created one of the biggest private donations to the memorial.