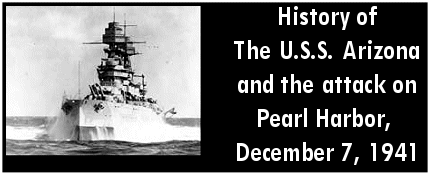 Class: Pennsylvania Battleship
Launched: June 19, 1915
At: New York Navy Yard, Brooklyn, New York
Commissioned: October 17, 1916
Length: 608 feet
Beam: 106 feet, 2 inches
Draft: 28 feet, 10 inches
Displacement: 34,207 tons

Built as part of America's pre-World War I modernization of the Navy, Arizona began her career as a gunnery training ship and cruised the coastal waters of the Atlantic Seaboard prior to the United States' entry into the war. She later served as flagship of the Atlantic Fleet and of various battleship divisions in the Pacific, including one based at Pearl Harbor. It was there on December 7, 1941, during the Japanese attack, that Arizona's magazines were pierced by a 1,760-lb bomb that shattered the battleship, instantly killing most of her crew and sinking the ship in 40 feet of water. Arizona's burning superstructure and listing masts became one of the most-reproduced scenes of the Pacific war as the nation rallied to the cry, "Remember Pearl Harbor!" One of only two ships not refloated after the attack, Arizona was left a shattered hulk on Battleship Row.
source: Historic Naval Ships Visitors Guide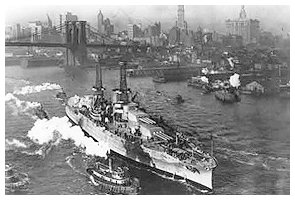 The USS Arizona in New York, 1916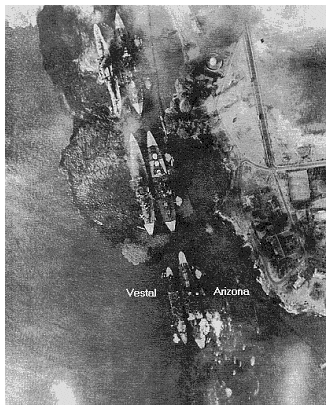 Aerial photo from December 7, 1941 taken during the attack on Pearl Harbor by Japanese bombers.
December 7, 1941 - Pearl Harbor, Oahu
The devastating surprise attack by the Japanese on U.S. Military installations at Pearl Harbor, Hawaii. This attack would be the start of World War II for the U.S.A.
The attack on the ships, planes and other equipment in Pearl Harbor was devastating. The U.S.S. Arizona was shattered in the attack as it sank in less than ten minutes. With it where 1,177 crewman who where killed.
This was the greatest loss of life that day, and the 1,117 deaths accounted for approximately half of the total number of Americans that were killed during the entire attack on Pearl Harbor.