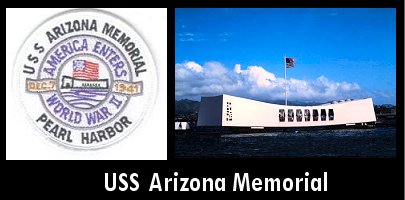 Over more than 20 years there was much discussion and controversy as various monuments were planned to honor the men who died at the attack on Pearl Harbor. One of the most moving would become the memorial for the USS Arizona.
In 1949 the Pacific War Memorial Commision was created. One of its goals became the building of a memorial in the waters above the wreckage of the USS Arizona. After nearly a decade the commision was finally able to begin construction of the memorial, realising their only problem was raising the money to build it.
That's where the Colonel, Tom Parker, jumped on the bandwagon by offering the commision his help by staging an Elvis concert as a benefit for the project.
Elvis' benefit would raise nearly $ 65.000 for the memorial building fund. All proceeds went directly to the project, without anything held for expenses. Even the Colonel and Elvis had to buy a ticket to get into the show !!.
In 1962 the memorial was finished and was dedicated on Memorial Day. Since then, the USS Arizona Memorial has become one of the most visited sites in Hawaii.
To Elvis it was always a source of quiet satisfaction and pride to know that he had a significant role in making the memorial possible.