Jerry Hopkins (photo by William Waterfall)
NOTE about the author:
Jerry Hopkins has been chronicling popular music since his graduation from Washington and Lee University in 1957.
He is a twenty-year veteran of Rolling Stone, and authored two highly praised books about Elvis Presley:
"Elvis: A Biography," published in 1971 and
"Elvis: The Final Years," published in 1980, as well as the 13-hour-long radio series, "Elvis Presley Story," syndicated internationally. Both books were international bestsellers (now out of print).
His files and tapes and other research material constitute one of the most visited archives at the in the Mississippi Valley Collection at Memphis State University.

Click on the cover of "Elvis, The Final Years"
to read an article from Rolling Stone Magazine
about this book, published in 1980.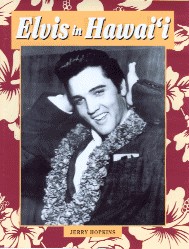 Cover of "Elvis in Hawaii"
by Jerry Hopkins
TCB...WITH AND WITHOUT THE FLASH
The story of the making of my third book about the King, "Elvis in Hawaii," is about Taking Care of Business, but not in the singer's customary fashion. If I'd had a TCB pendant to hang around my neck, it
wouldn't have had a lightning bolt, there'd have been a turtle or a snail instead.
The idea for the book came to me when I was living in Hawaii and my two partners in the venture were friends who became, in the end, two of the
book's major characters, Tom Moffatt and Ron Jacobs, who started as disc jockeys in Hawaii in the 1950s and remained close to the Colonel until
his death. Together, Tom and Ron and I produced a 16-page "sampler" (editor: available for download, see elsewhere on this page) which we planned to use to attract a New York publisher. This was nearly ten years ago, in 1993!
To find new, unpublished visual material, we asked a Honolulu newspaper columnist to run an item about our search, believing that some Hawaii
residents might have taken some snapshots during one of Elvis's many visits to the the islands. In this way, we found, among others, Velma Fisher, who was on the same Matson liner to Hawaii with her three children when Elvis made the ocean voyage for his first island concert in 1957. One of her pictures was used in the sampler.
We also used photographs obtained from Todd Slaughter in England,the UK's leading Elvis entrepreneur who published Elvis Monthly magazine, staged Elvis "conventions," and led groups of fans on annual pilgrimages to Memphis and Hawaii on the anniversary of the singer's death.
For a number of reasons, the book project was abandoned, not least because I decided to leave Hawaii and moved to Thailand, where I still
reside. In 1993, the Internet was not so sophisticated as it is today, so further research would have been difficult, and with no real
encouragement from my literary agent in New York, I turned my attention to my new life in Asia.
Eight years passed and on a visit to Hawaii in December, 2001, the islands' leading publisher, Bess Press, asked me to revive the project.
The company's owner, Buddy Bess, was a friend who published several small books of mine during the time I lived in Honolulu and when he said
he'd assign someone in his office to coordinate collection and selection of the visual material, I agreed.
Now the the project went onto the fast track...and the snail finally was replaced with a proper lightning bolt. I was given just six months to research and write 20,000 words of text and find the illustrations.
During my Hawaii visit, I met with both Tom Moffatt, who said he'd contribute his personal library of Elvis mementos and photos, and
DeSoto Brown, an archivist for the esteemed Bishop Museum who personally owned the largest private collection of Hawaii's pop cultural memorabilia, including dozens of Elvis movie stills and posters. He, too, joined the team, and the Honolulu Advertiser volunteered use of its files as well.
Bizarrely, we still had Todd Slaughter's collection from England. We had tried to return it, but the package came back to Hawaii, unclaimed,
and for all those years remained in Tom Moffatt's storage locker.
("Return to sender/address unknown..."?) Happily, Todd was relocated and he kindly granted permission to use whatever we needed, telling me
that he was bringing another group of English fans to the islands this year.
I also called Velma Fisher and some others during my 2001 visit and then came home to Bangkok, where via the Internet I found Martin Nolet's
"Elvis in Hawaii" web site and, with his assistance, was plugged into other Elvis websites and soon communicating with numerous Elvis fans,
several of whom contributed items that ranged from an autographed cocktail napkin to the song list that Elvis drew up for the 1961 concert staged at Pearl Harbor as a benefit to build a memorial to the USS
Arizona. And, yes, there were more unpublished snapshots, too.
In all, more than a hundred photographs were used to accompany chapters about Elvis's island stage performances (in 1957, 1961, 1972) and the 1973 satellite show, as well as about the three movies filmed in Hawaii, and his vacations there. Elvis was the only non-resident entertainer who appeared in the islands during all three decades, during which time he developed an affection for Hawaii as strong as the islands had for him.
The book further includes several "sidebars"---stories about how the music from Elvis's movies fits into the history of Hawaiian song, the island-born karate instructor who changed the singer's performance style, and the lucrative market for the King's Hawaii-linked memorabilia.
The book was released in November 2002 and is now available at bookstores in Hawaii and through this site. Please scroll to bottom of this page to download the orderform to order your book directly from the publisher !
96 pages, 8.5" x 11", Flexibind format
ISBN: 1-57306-142-5 Retail price: $19.95