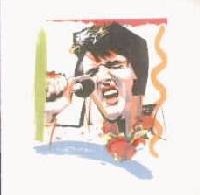 Elvis: The Alternate Aloha
(US) RCA/BMG 6985-1-R (CD/LP)
Released: May 1988 .

This album contains the complete recording of the dress rehearsal of January 12, 1973 at the Honolulu International Center and as a bonus 3 of the 5 songs recorded after the concert are included with some additional studio conversation between the takes.

Special Note:
The LP-version did not include the full concert, Hound Dog was removed and for some unknown reason replaced by the bonus tune: Blue Hawaii.
To return to Albums Menu, click here

.
Content:
Also sprach Zarathrusta
See See Rider
Burning Love
Something
You Gave Me A Mountain
Steamroller Blues
My Way
Love Me
It's Over
Blue Suede Shoes
I'm So Lonesome I Could Cry
Hound Dog
What Now My Love
Fever
Welcome To My World
Suspicious Minds
Introductions By Elvis
I'll Remember You
American Trilogy
A Big Hunk O' Love
Can't Help Falling In Love
Blue Hawaii
Hawaiian Wedding Song
Ku-u-i-po