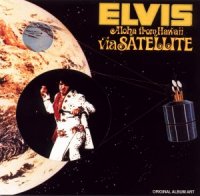 Elvis: Aloha from Hawaii via satellite
(US) RCA VPSX-6089 (Double-LP)
(US) BMG 52642-2 (CD)
First released: February 1973 (LP).

This album was RCA's first Quadradisc album.

The LP achieved over $ 1 million in sales, making it the first
Quadradisc in the recording industry to become gold.

This album reached number 1 on the chart for 52 weeks in the U.S.A.
Content:

Side 1
Introduction: Also sprach Zarathrusta
See See Rider
Burning Love
Something
You Gave Me A Mountain
Steamroller Blues
Side 2 My Way
Love Me
Johnny B. Goode
It's Over
Blue Suede Shoes
I'm So Lonesome I Could Cry
I Can't Stop Loving You
Hound Dog Side 3 What Now My Love
Fever
Welcome To My World
Suspicious Minds
Introductions By Elvis Side 4 I'll Remember You
Medley: Long Tall Sally/Whole Lotta Shakin' Goin' On
American Trilogy
A Big Hunk O' Love
Can't Help Falling In Love